Creative euro pallet
By TOMAS MORAVEC in BrastislavaRe inventing solo transport on a hac...
Street Piano
"PLAY ME I'M YOURS" is an original concept from LUKE JERRAM launche...
Resounding Lyon city
Since 2002, music festival Nuits sonores invest public places i...
Koningsdag : Dutchified style...
Dutching yourself with ... DUTCHIFIED ! > a unique version of tr...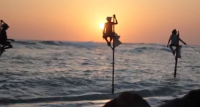 Cee-Roo style !
Ultra talentuous swiss beatmaker, CEE-ROO just come back ...